Since most of the video traffic in the internet is streamed from cache storage locations, and these caching locations vary between deep network caching and back bone caching, how does the ISP define what is the best storage topology to pursue? AR/VR streaming all requires different latency versus cloud DVR streaming or pre-position applications. What are the benefits and requirements of each of the following storage locations: local storage in the CPE or Storage at the Edge of the ISP network? In this working group, participating members are focused on helping ISPs solve this problem by establishing the optimal storage topology for each of the applications that the SVA is working on and underlying technical and functional requirements of this storage.
The Streaming Video Technology Alliance Storage Working Group has three objectives. First, to identify the various storage locations benefits and applications requirements (i.e. Storage for pre-positioning vs. storage for AR/VR streaming); second, to establish basic requirement guidelines for storage deployments for each of the applications identified; and third, to identify additions and modifications to open caching APIs for various storage locations and establish a standard API or communications protocol related to storage access.
This group has not initiated or completed any proofs of concept.
Below are presentations delivered during working group sessions. Click on the presentation name to open it (many files are for members only and will require authentication) and a presenter name to view their profile. Note: if a presenter's profile is not public, it will redirect to their LinkedIn page.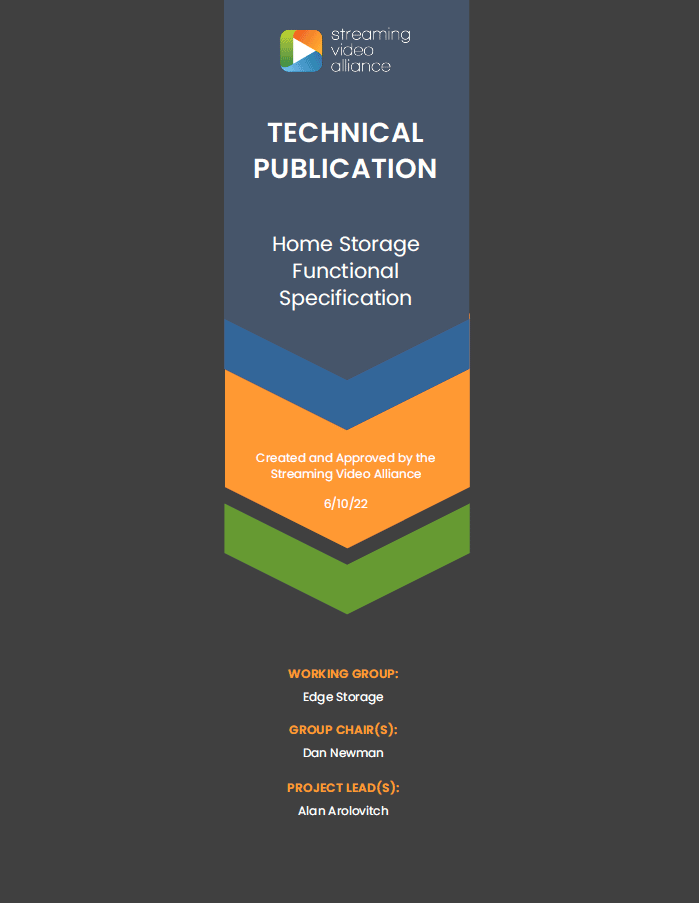 Home Storage Functional Specification
This document addresses use cases and functional requirements for the home storage open caching architecture. The Home Storage Open Caching Node (HS-OCN) is a new component of the open caching system and addresses in-home use cases for the improvement of content delivery. This document describes the architectural guidelines and functional specifications of an HS-OCN.
Note that to download draft documents, you must be an employee of an active member company with an ARO account. If you are part of a member company and don't yet have an ARO account, you can request one here.
Home Storage Functional Specification
The Home Storage Open Caching Node (HS-OCN) project adds functionality to the open caching system to further improve quality of experience (QoE) on networks with last mile challenges including speed limits (e.g. low speed DSL), usage limits (e.g. wireless), and last mile congestion (e.g. COVID quarantine). In the United States, almost 20 million households still have DSL or wireless Internet service. This number is larger worldwide. By leveraging storage in the home, end-users can have experiences with fewer rebuffer events, faster start times, and higher visual quality including UHD. At the same time as the QoE is improved, the amount of content which can be viewed is increased because the operator can reduce the peak period usage.