Security and protection of video content, as well as subscriber data, is a top priority for content owners, aggregators and distributors across the streaming media value chain. Breaches in security can not only undermine subscriber trust and confidence, but threaten revenue as well. The Privacy and Protection Working Group is focused on defining a variety of content and service-level entitlements that are implemented by the programmer or operator and enforced within the network or client to impose content and network usage rules as well as best practices on handling privacy of consumer information related to streaming video.
The Streaming Video Technology Alliance Privacy and Protection Working Group has three objectives. First, to identify critical data elements to collect for subscription-based online streaming video services; second, to describe the different methods by which to safeguard this data during storage and usage; and third, to define best practices for safeguarding video content from unauthorized access or theft.
This group has not initiated or completed any proofs of concept.
Below are presentations delivered during working group sessions. Click on the presentation name to open it (many files are for members only and will require authentication) and a presenter name to view their profile. Note: if a presenter's profile is not public, it will redirect to their LinkedIn page.

Forensic Watermarking Implementation Considerations for Streaming Media
The piracy of online video content is a significant issue for content owners and distributors. This document explains the technology of watermarking and how it can be employed, in various methods, to secure video against theft.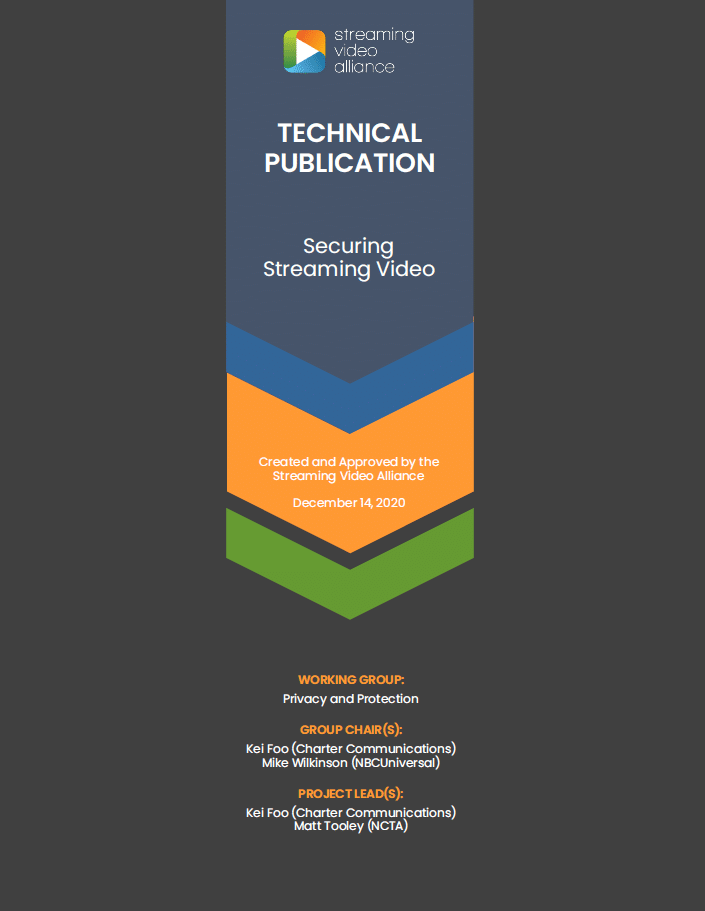 Securing Streaming Video
The ability to prevent piracy, take down illegal content, and act against illegal sources are key objectives of content protection. Meeting these objectives requires the use of a variety of technologies including watermarking, Digital Rights Management (DRM), fingerprinting, and cryptography. This document examines and discusses the streaming video system to provide best practices for protecting and securing streaming video content for both content providers and distributors to ensure content is being used as intended by those who it was intended.
Note that to download draft documents, you must be an employee of an active member company with an ARO account. If you are part of a member company and don't yet have an ARO account, you can request one here.
This group does not currently have any draft documents.